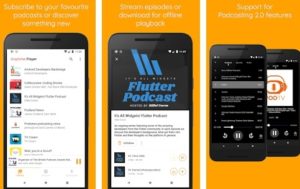 An open source podcast player for Android and iOS (Beta) now available!
Anytime Podcast Player is a free and open-source podcast player that's meant to be simple and user-friendly. Anytime will be Podcasting 2.0 compatible once the software is further developed, which will allow for more features.
The Anytime Podcast Player brings your favourite podcasts to life on-demand. Browse, search and find the best of the web's content with over 2 million free podcasts just a tap away. With editing tools that enable users to record personalised narration for their podcast episodes at home, anyone can create a professional sounding episode – even without any prior experience.
Whether you want hilarious true stories from the US legal sector by How Stuff Works, news from BBC World Service or family recipes from The Pioneer Woman, there's something for everyone in our extensive library of amazing content.
Customizable settings allow for flexible listening across your favorite podcasts. From chapter summaries to playback speed control on a global or per-episode basis, it's easy to listen at your own pace!
This is not only great if you're trying to catch up on an entire season of a favorite show or learn more about a certain topic quickly–but also useful as an alternative teaching tool for those with hearing impairments.