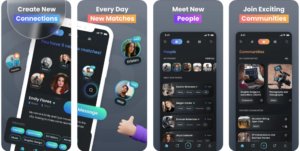 Aphinity is a streamlined way to platonically meet people and grow your network. Get new matches every day via common interests, participate in discussions, and join communities. Aphinity is a great solution for those moving to a new area, starting a new career, students and recent graduates, and more.
Aphinity is a social platform that connects you with like-minded people nearby. With Aphinity, you can discover exciting communities and events happening around you in real-time.
You can also communicate with people and groups using instant messaging, and easily plan events by seeing which friends are online.
Additionally, Aphinity lets you manage your existing groups and organizations, send invites to other members, join new communities and events with dedicated discussion rooms, and create communities and events of your own.