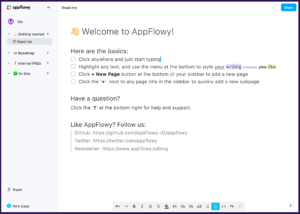 A note taking app like Notion
If you're looking for an open-source alternative to Notion, look no further than AppFlowy. You are in complete control of your data and customizations, and it's built using Flutter and Rust for stability and performance. Plus, it's absolutely free to use! Whether you're taking notes, managing a project, or just want a better way to organize your thoughts, AppFlowy is a good alternate.
AppFlowy is trying to be the best of both worlds when it comes to productivity and data security. With AppFlowy, you get the reliable native experience of Notion along with the added bonus of data privacy and community-driven extensibility. With AppFlowy, you can rest assured that your data is safe and sound while still getting access to all the features and functionality that you need to get the job done.