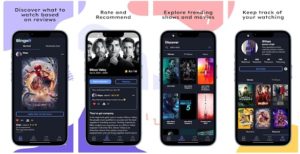 A community app for movie and TV shows!
Bingeit is a great app for anyone who loves watching movies and TV shows. It gives you recommendations based on the reviews of people whose taste you trust, so you can always find something good to watch. You can also see what your friends are watching or want to watch, so you can discuss it together. Bingeit is a great way to socialize and find new content to watch at the same time.
With its easy to use interface, you can search for your favorite films and tv shows in a snap. Not only that, but you can also read reviews, post comments, and follow other users. Keep track of your watching with a personalized watchlist and watched category.
You can even see other users' review's for a certain movie or tv show. Whether you're a seasoned film buff or just getting into movies and tv, Bingeit is the perfect app for you!