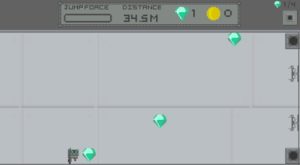 Break Guns Using Gems is a fast paced platformer that will challenge you with innovative controls and an unexpected gun-related twist.
In BGUG, a tiny robot needs to go through the obstacles and collect gems. You are in control of the robot.
You have to use gems to stop the guns. They will try to beat you and make it harder for you. You can be strong and keep going in this endless runner.
Collect coins on your adventure and block guns to get coins. Use the coins to buy a different skin for your robot. There are more than 30 available skins.
Hold the left side of the screen to jump. The longer you hold, the higher your character will go. Hold right of screen to fall down quicker after jumps.
The controls are simple but hard to master. You need to get better every time you die. Beat the best of your friends and get all the achievements!
The playground has no coins for rewards but you can change the game with many options.