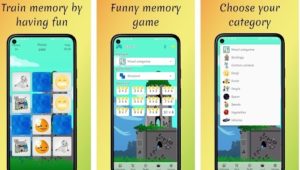 Find pairs, improve memory.
Cards Matching is a memory game build with Flutter for Android. In addition to classic finding pairs of cards there are few game modes like swap mode where cards are changing its positions after mistake and remember mode when you have limited tries. There are also a variants of modes where there is a limited time.
Game contains multiple categories like animals, buildings, space and allows to personalize game backgrounds and cards reverse images.
Remember the classic card matching game you used to play as a child? Cards Matching will bring back memories. With beautiful images and vibrant colors, not only will you easily see if an object is on the left or right side of your screen – but you'll have fun doing it! This puzzle game requires players to find pairs by remembering where they appear on their grid. It's like another round of memory with some added twists! There are many ways to customize your experience too.