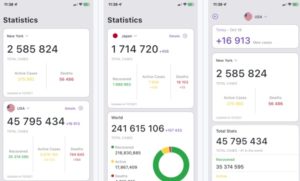 Real-time global COVID-19 stats
You're not prepared. Now you are. For the whole world to see, Corona Spectator is an app dedicated to providing information about COVID-19 in real time that includes news updates and important statistics. It may take hold before you know it, but this pandemic is nothing new, which means there's plenty of useful tips spread throughout here to guide your way when things get hard for you and yours.
Features:
Global Stats: Get coronavirus statistics for ALL countries in the world.
Real Time: Statistics are updated in 10 min and 24 hour intervals.
Special Stats for the USA: Get State stats for your state.
News: Get the latest coronavirus news and updates.
Prevention: Get prevention tips to stay safe amid the pandemic.
Symptoms: Take a look at symptoms of the Coronavirus and see if you maybe experiencing any of them.
Symptom Checker (SOON): Analyze your current state of being and get see if you may have coronavirus and get recommended to the nearest clinic.
Emergency Contact Hotlines: Call 911, 119, and 112 straight from the app incase of an emergency.
Quick Links: Quick links to coronavirus websites to seek more information.