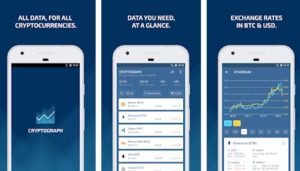 CryptoGraph is the app to have if you want to track your crypto coin portfolio, trends, and prices with ease. With CryptoGraph's charts and price feeds, you'll always be in the know about what market data means for the cryptocurrencies you're currently invested in or are just keeping an eye on. Coin tracking tools on Cryptograph make it easy to see how much your total investment has increased over time- giving you a sweet sense of satisfaction when that number gets higher. CryptoGraph also lets you customize your update frequency!
You're scrolling through your feed, and all you see is charts. The smallest font getting rid of any information you might actually care about. You check the price-per-coin on one site – find out it's worth $2 per coin – go to another site and see its trading at $3 per coin! You can't be sure if you bought or sold yesterday without a record… so what are you gonna do? With CryptoGraph, get real time data ANYWHERE with just a quick refresh of the screen! All in color (because who has time for black&white) Easy to use graphics make every step clear as day, like this button right here that says "Buy" Want more? Sure thing.
Features
– Comprehensive data on more than 2,500 crypto currencies
– Exchange rate charts designed for mobile interaction
– Select and add coins to your "Favourites" list for easy tracking
– Customize your list display the way you want
– Copy data from the app by long pressing
– Community driven: you decide what features to add!