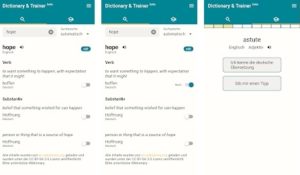 Dictionary & Trainer (beta) is a Flutter app and now available on the Google Play Store.
The app combines a dictionary and a word training app. It provides you with translations from Wiktionary (English / German) and
and ensures that you never forget them again.
The app is a hobby project and currently in beta status.
Imagine a new way to look up your word. Rather than just finding the meaning among the infinite options, you have all of them at your fingertips. Imagine an app that's more interactive and engaging with vocabulentary available for anyone through Wiktionary! Reach for your mobile device and explore today!