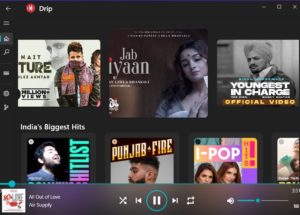 A desktop Youtube music app!
Drip is a simple desktop YouTube Music Client written in Flutter Framework. It has a modern, intuitive interface that follows Microsoft's Fluent design guidelines. The app is easy to use and lets you search for and play music from YouTube with just a few taps.
Drip is the perfect music player for Windows 10. It has a beautiful, minimalist design that follows Microsoft's Fluent design principles, and it integrates seamlessly with your PC. Drip also features gapless playback, so you can listen to your music without interruption. And if you're a fan of lyrics, Drip has you covered – it includes lyrics support for most songs. Plus, Drip is constantly updating with new features and improvements. So whether you're looking to explore new artists and genres or just want an easy way to create playlists, Drip is the perfect choice.