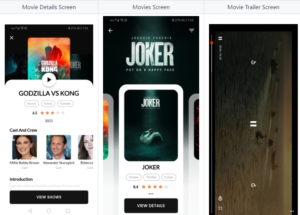 Nueplex Cinemas' ticket booking software.
EZ Tickets Cinema is an app made with the Flutter framework to provide online ticket booking functionality. It provides a mobile-first, hassle-free solution for your movie entertainment needs that makes getting the best seat in the house at a great price easier than ever before.
Whether you're finding theaters near you and browsing movie times, viewing trailers from cinema lineups, finding theaters nearby where upcoming movies are showing, or watching previews of what's playing in cinemas right this moment – the EZ Tickets app delivers it all! In fact, there's so much going on in this application that we can't list everything here. Sign up now to experience it for yourself!