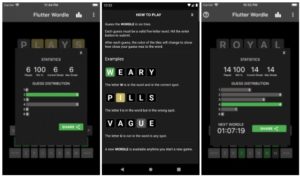 Flutterdle is a fun and challenging word game that is sure to keep you entertained for hours on end. Whether you're looking for an engaging new puzzle to solve or just want to explore the numerous features that this exciting app has to offer, Flutterdle is a perfect choice.
Some of the highlights of this game include its shake animation, which displays whenever a word doesn't exist in the word list or when it's too short. The flip animation that appears when you make a guess is also a lot of fun, as it flips the letter tiles in a staggered manner and gives you valuable feedback on whether your guess was accepted or not. And last but certainly not least, Flutterdle includes some exciting animations that show up whenever you win the game, giving you something enjoyable to look forward to in each round!
Along with all of these great features, Flutterdle also offers users plenty of customization options. From light and dark themes to rules screens and different ways to view stats and track data on your progress through the game, there are countless settings that allow you to tailor this app exactly how you like it.