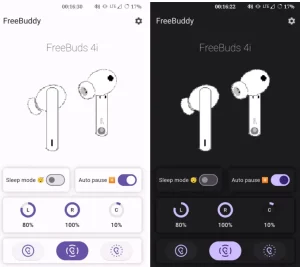 Huawei Freebuds 4i Headphones Companion App.
FreeBuddy is a Huawei Freebuds 4i headphones companion app designed to make the user's experience more efficient and convenient. The app was created as an alternative to the official app, which is heavy, slow, and lacks some essential features.
FreeBuddy offers several useful features, including battery level display, switching between ANC modes, changing settings, and smart wear detection. It also offers tap actions for quick and easy control. One of the standout features of FreeBuddy is the Sleep mode, which disables gestures, ANC, and smart wear, allowing for a more peaceful sleeping experience. Another useful feature is the ANC lock, which locks the headphones onto a specific ANC mode, so the user doesn't have to constantly switch back and forth.
In addition to these features, FreeBuddy also offers the ability to find lost headphones, making it a comprehensive and convenient companion app for Huawei Freebuds 4i headphones. With its lightweight design and user-friendly interface, FreeBuddy is an excellent alternative to the official app, offering users an efficient and enjoyable experience.