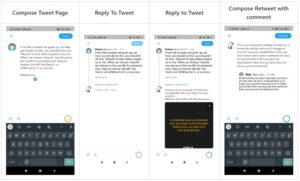 Introducing Fwitter: your very own version of Twitter, fully recreated using Flutter and Firebase. This project incorporates a variety of features for a rich user experience, while operating through Firebase for user sign-in, live updates, and data management.
Think of Fwitter as your personal Twitter playground. It provides different sign-in options such as using your Google account, or the traditional email and password method. Once signed in, you're welcomed by a timeline filled with tweets from those you follow.
Let's get into the impressive features:
Ever versatile, Fwitter lets you log in using either your email, password, or even Google account.
Follow your favorite users and enjoy their tweets directly on your home timeline.
Look out for the verified badges – they vouch for a user's authenticity.
Each tweet is a mini-universe – explore them for user details, timestamps, and likes.
Spark or join engaging dialogues via comments and nested threads.
Stay ahead with real-time alerts on likes and comments – never miss a beat!
Fwitter lets your thoughts flow. Go ahead and compose succinct, impactful tweets.
Spice up your posts! Add images and videos to bring your words to life.
Step into others' digital worlds by exploring their profiles, or make yours stand out.
Chat instantly with fellow Fwitter-ers – connection is just a message away.
Notifications keep you informed about likes and mentions. You'll always be in the loop.
Tap into the vibe of the moment with trending hashtags and search features. Discover, connect, and join the global conversation.