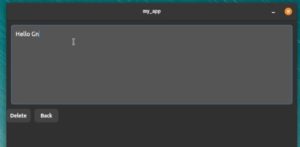 A GNOME-themed note taking app for Linux.
Gnotes is a simple note-taking app being developed in Flutter. It aims to provide a genuine Gnome-like experience, complete with all the benefits of Flutter – from animations to state management, null safety, and the potential to port across multiple platforms.
Theming is a key focus for Gnotes, with the app automatically matching the GNOME theme of your Linux system, whether that is light or dark mode. Initially, only text input will be supported (including emoji), but markdown support may be added down the line.
Thanks to Flutter, Gnotes will also have feature-rich and meaningful animations. The app is being developed primarily for Linux, but other platforms may be supported in the future.