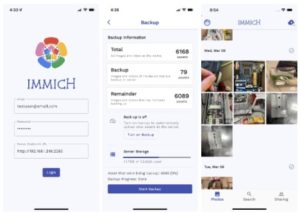 Self-hosted photo and video backup app.
We all know the importance of backing up our photos and videos. But it's often a hassle to transfer files from our phones to our computers. Immich offers a solution: a self-hosted backup solution directly from your mobile phone.
With Immich, you can upload and view assets (videos and images), download assets to your local device, and even tag and classify assets using the ImageNet dataset. It also supports HEIC/HEIF backup, real-time render from multi-device uploads, and search by tags and EXIF data.
With features like real-time rendering from multi-device uploads, image tagging and classification, and object detection, immich has everything you need to keep your media organized and accessible. And if you're looking for even more features, the optional reverse geocoding feature using Mapbox can help you find assets based on their location.
System Requirement
OS: Preferred Linux-based operating system (Ubuntu, Debian, MacOS…etc). The developer hasn't tested with Docker for Windows as well as WSL on Windows
RAM: At least 2GB, preffered 4GB.
Cores: At least 2 cores, preffered 4 cores.