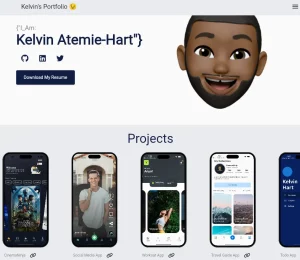 Portfolio website made in Flutter
Introducing kelvinatemiehart.com, a portfolio website created using the popular Flutter framework. Featuring beautiful designs and interactive interfaces, this website shows Kelvin's strong drive and technical abilities as a Flutter developer.
Kelvin's portfolio is constructed with state-of-the-art technologies and coding practices to ensure the best possible experience for visitors. With its innovative design, comprehensive content, and optimized performance on mobile devices, kelvinatemiehart.com is an impressive showcase of his Flutter development skills.