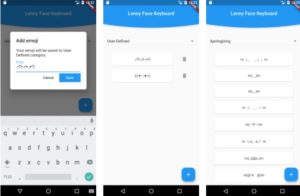 Lenny Face Keyboard is an emoji and lenny face app which allows user to quickly copy lenny face.
Emoji are everywhere, and with the Flutter Lenny Face Keyboard, we want to add them to your texting experience. This neat app allows users not only to choose from thousands of text and lenny face emojis but also lets them create their own custom emoji as well! Go explore this app today!
Flutter Lenny Face Keyboard is a keyboard that lets users choose from thousands of text and lenny face emojis. From happy to shocked, there is an emoji for every occasion.
There are pre-defined categories filled with choices like "happy" or "sad," but the app allows users to create their own custom ones as well. All copies are stored in the Recently Used category so you can keep track of what's happening when you see them next time!
The app provides everything on your phone needs: super convenient typing experience and distinctive effects all at your fingertips for free–allowing iPhone lovers to express themselves better than ever before!