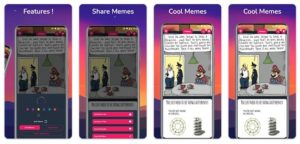 MeMax is the app for your daily doses of funny memes and killing time, designed by a memer for the memers! Flutter made, using a clean code architecture, MeMax is easy to use and navigate.
With one touch on memes, you can auto animate to the next meme– no more tired scrolling! If you prefer, you can also scroll or swipe through memes.
Easily share funny memes with your friends in a second by long tap and save your favorite memes for later fun. MeMax's absolute kickass user interface is clean and minimalist. And if you have crappy internet, the developer has a setting for you where they optimize their meme retrieval APIs to suit your needs.