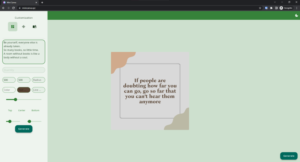 Quote with image background generator!
Minicanva is a bulk quote generator for Instagram that lets you create professional-looking posts with custom fonts, sizes, and backgrounds. With Minicanva, you can easily curate quotes from your favorite authors, celebrities, or public figures and share them with your followers in a visually-appealing way.
And because Minicanva is built using flutter, it's able to run smoothly on both iOS and Android devices.