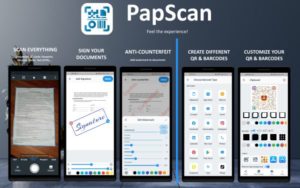 This is a good tool for scanning text from images and PDF documents.
PapScan is a great mobile app that turns your device into a PDF scanner and creator. It's also equipped with QR & Barcode scanning and creation tools, which makes it super useful for a whole range of purposes.
With PapScan, you can scan text (OCR) from any image and PDF document, which is really handy if you need to extract information from a document quickly.
Overall, I'd recommend this app to anyone looking for an easy way to scan documents and create QR & Barcodes.