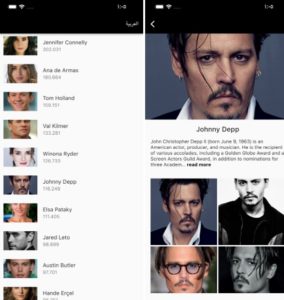 Popular actors and actresses data
People Index is an app that allows users to scroll through and save the names and information of popular people in the movie industry. This is an offline app, meaning what the user has scrolled through and saved will be stored on their device to be accessed without an internet connection.
In addition to being able to see the general information of a celebrity, the app also allows users to view images of the celebrity. One feature of this app is the ability to download images of the current celebrity onto your Android gallery/iOS photos. Whether you are curious about a star's upcoming projects or want to know more about their personal life, People Index is a helpful app that puts all the information you need right at your fingertips.
Not only does this app give users access to essential details about celebrities, but it is also user-friendly and simple to navigate.