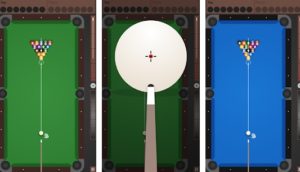 Play 8 Ball Pool like you know and love on your mobile device featuring 3D graphics, realistic physics, and a challenging AI mode.
The objective of a 8 ball game is to get all the balls in stripes or solids, before your opponent. Whoever pots the black ball first after putting all their other set of balls wins the game.
Game modes:
– "Play vs. Phone": Challenge your mind by playing against your own phone or tablet! Will you be able to beat the AI (Artificial Intelligence)? This is an ideal mode to practice your pool skills.
– "Play and Pass": Play against your friends or family like a classic game of pool. Two players get a turn after each other. This multiplayer variant is played on a single screen!
This game follows the US 8 ball rules. A player is allowed to continue in his turn until he makes a foul play:
– No balls were hit
– The ball of the opponent was hit first
– No balls hit the cushion
– White was potted
– Black was hit first before all of the player's balls (solids or stripes) were potted
– No balls were potted in a turn
Extra features:
– Local multiplayer
– Sound effects
– 3D graphics
– Realistic physics
– White ball spin
– Highscores
– Beautiful and simple user interface
– Free to play