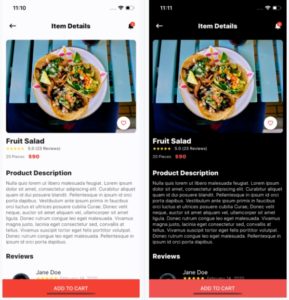 A mobile's restaurant UI Kit.
Create an authentic restaurant app UI with the help of this clean, modern, ultra-minimalistic Flutter UI Kit. You'll experience how beautiful it is to use responsive web design and material components in your projects.
From the kitchen to the table, Flutter's Restaurant app UI kit will help you serve up a delicious new way to showcase your food!
You can make restaurant menus that customers adore from all over the world. Offer dish widget navigation where users can quickly browse for what they want and see their order history. Show off dishes with detailed descriptions so people know exactly what they're getting. Enjoy any category page by scrolling down or clicking on a section. Customers love seeing different options of cuisine around the world before deciding what to eat – be sure your restaurant has something great for everyone! You no longer need pesky paper copies of menus cluttering up tables; help guests easily take an order.