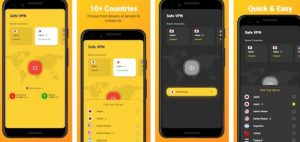 The first VPN app written in Flutter?
Safe VPN is the first VPN created using the Flutter SDK that I know. This allows for a high level of security and performance, as well as a rich user interface. Flutter makes it easy to create beautiful, performant apps that run on Android and iOS.
Doesn't matter if you're traveling, in a public wi-fi spot, or at your favorite coffee shop; with Safe VPN you can roam the Internet freely.
Enjoy hours of uninterrupted video streaming and gaming without having to go through costly data overages.
Protect all connection types (WiFi, LTE, 4G) with military-grade encryption that allows you to browse the Internet freely without worrying about your safety.
For the mobile user on the go, one doesn't have time to worry about protection while their WiFi connection is shared with others. Safe VPN provides a solution to this problem by providing an encrypted tunnel that masks data and provides users peace of mind through anonymity.
With features like wired speed, multi-device compatibility, and ability to use it on public WiFi, SafeVPN is the perfect tool for online privacy.