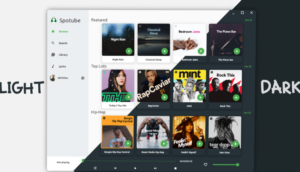 Desktop client for Spotify & Youtube music.
Spotube is the perfect desktop-client for Spotify and Youtube lovers. It utilizes the power of both services' public APIs to create a hazardless, performant, and resource friendly experience. Whether you're looking to listen to your favorite songs or watch your favorite videos, Spotube has you covered!
Spotube is a lightweight and resource-friendly music player that doesn't require any telementry or user data collection. It's open source, so you can be sure your data isn't being used without your consent.
You can control playback right from your machine instead of relying on servers. And because it's small and doesn't use up much data, it's perfect for those with limited storage space or slow internet connections.
New Features:
Playback Cache Support. So unfinished playlist and tracks remains cached & starts automatically when application is launched again
Login Screen guided tutorial about how to obtain Client ID & Client Secret
Signed Android Application so now longer need to uninstall the old version for installing the new one
OS Media controls for Linux. Keyboard media keys now work in Linux
New better, consistent & predictable Audio engine with proper event firing support
Custom Lyrics delay time. Can be used to delay negative amount of time too
Playback Queue View support. Currently playing tracks or playlist can be viewed or changed from it or for doing other actions too
Android SeekBar support in Notification Panel & Lock Screen
New Blur background design adapted to multiple components including Floating Player, Player View & Lyrics Tab
New HighContrast Color Scheme addition which reduces battery consumption on OLED or AMOLED display devices