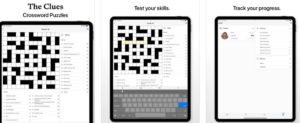 The only crossword game with puzzles specifically designed for American and British dialects.
It currently features 100 original crossword puzzles of varying difficulty with new puzzles being added monthly.
Track your progress with user statistics and history.
Customize the appearance with multiple color choices and a Dark Theme available.
If you get stuck on a clue use the Reveal feature to show the answer.
Improve your word skills with puzzles for all levels.
With original puzzles and multiple difficulty levels, this game is perfect for puzzlers of all ages and abilities. Take it easy with crosswords for beginners or give yourself a real challenge with advanced level puzzles. Plus, track your progress with user statistics and history, customize the look and feel with colors and themes, and play anywhere with offline availability.