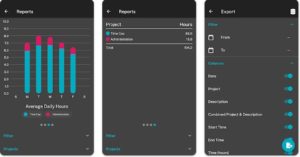 friendly time management companion
It's an uncomplicated app designed to monitor your time effectively while ensuring your privacy remains intact. It's not about the bells and whistles; it's about delivering results.
The conception of Time Cop stemmed from a desire to explore the world of mobile development while building a practical tool used daily for work. It doubles as an example project for others to learn from and build upon.
Key Features:
Exclusively offline and mobile-oriented
Supports Android (Google Play, F-Droid), iOS, and Linux platforms
A staunch advocate for privacy – absolutely no tracking, spying, or advertising
Multiple timers to monitor numerous tasks concurrently – initiate them with a simple tap
Tie your timers to specific projects to categorize your work (or choose not to)
Timer flexibility: start, stop, modify, and erase timers without hassle
Option to export data as a .csv file, customized by projects and time periods
Full database export for comprehensive access to your data
Auto-switch between light and dark modes, following your device preferences
Multi-lingual support includes English, Arabic, German, Spanish, French, Hindi, Japanese, Korean, Portuguese, Russian, Chinese (Simplified & Traditional), Italian, Czech, Norwegian, and Indonesian (contributed by users)
It's open-source under Apache-2.0 license, feel free to build upon it!